Manages all activities of mill schedulers
The QMOS scheduling suite provides tools and reports necessary to cover all aspects of a mill planner's job – from creating the initial long term plan for the mill, to a detailed melt shop schedule, to individual schedules to manage each piece of equipment on the finishing end. Detailed reporting tools including Gantt charts are provided for optimal control of schedules for the entire plant in one centralized location.
QMOS provides many valuable functions in order to facilitate the responsibilities of the scheduler:
Product, Spec, Test Definition
Product/Customer/Order Spec
Order History
Scheduling for Rolling Mill
Scheduling for Caster
Scheduling for Melt shop
Product Plan for setup Shops
GANTT Chart for forecast scenarios
Heat Scheduling
Roll Shop Scheduling
Billet Assignment and Reservation
Billet Optimization
Hot Charging
Reheat Furnace Charging
Quality Control
Billet Yard Management
Billet Yard Scoreboard
Physical Inventory
Billet Accounting
Billet Transaction
Billet History
Production Forecasting
Long Term and Short Term Planning of the Rolling Mills
QMOS enables the schedulers to create a general schedule for rolling families that will cover the next cycle of production. The detailed work orders are then created either manually or downloaded from the ERP system. QMOS provides realtime visibility to the latest schedule from end to end.
Long term planning
Individual work order planning
Work order genealogy
Integration with Most Popular ERPs for order download
Gantt chart for tracking orders on a timeline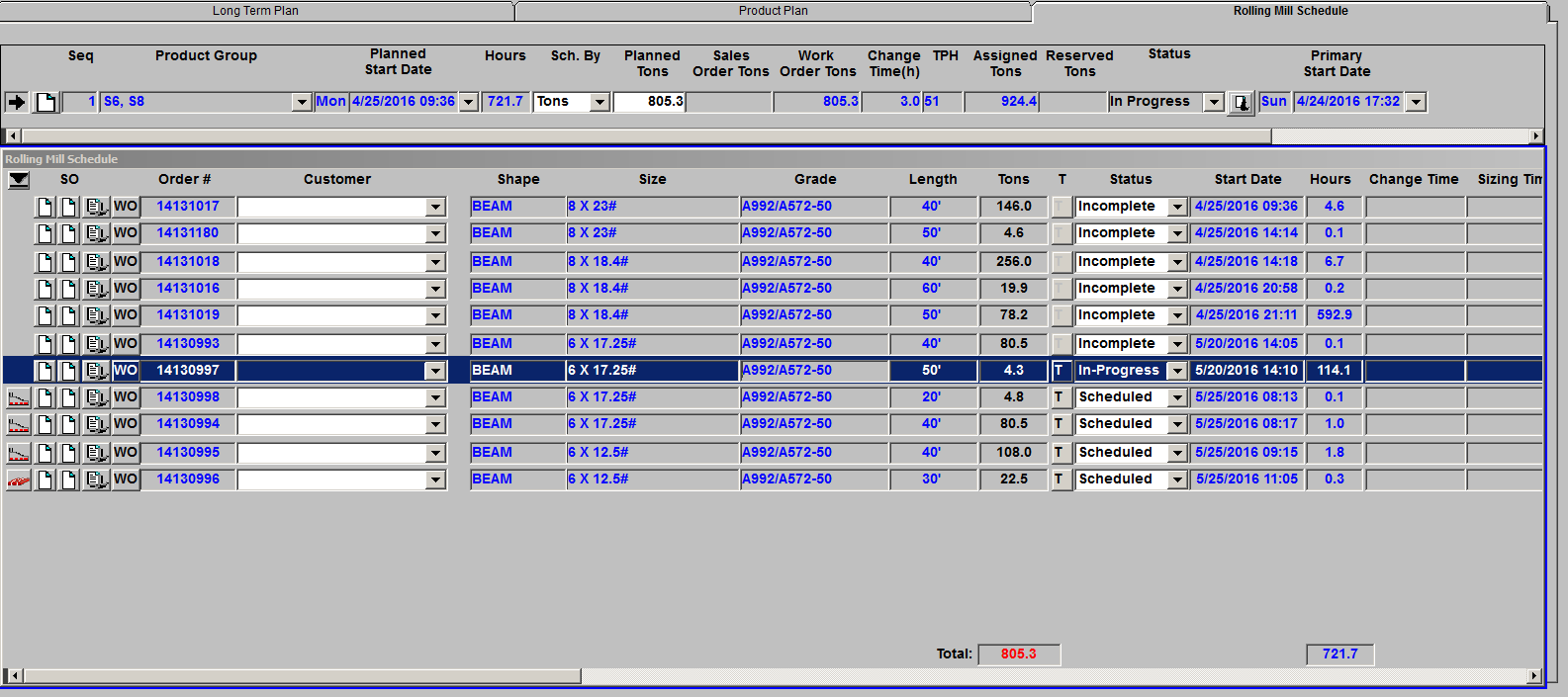 Scheduling of the Melt Shop
The Melting and Casting orders are generated based on the rolling orders as well as then existing inventory of billets. For the melting process, QMOS provides heat-level control, taking into account the varying heat size due to the nature of the continuous casting process and stacking locations of the cast product. The heat level scheduling provides the operators great flexibility to make on the fly changes when necessary due to missed quality or equipment failures.
Billet Yard Live virtual white board application
Billet location and layer tracking
Schedule for furnace charges and stack to stack moves
Billet allocation by chemistry results and physical attributes
Hot charge scheduling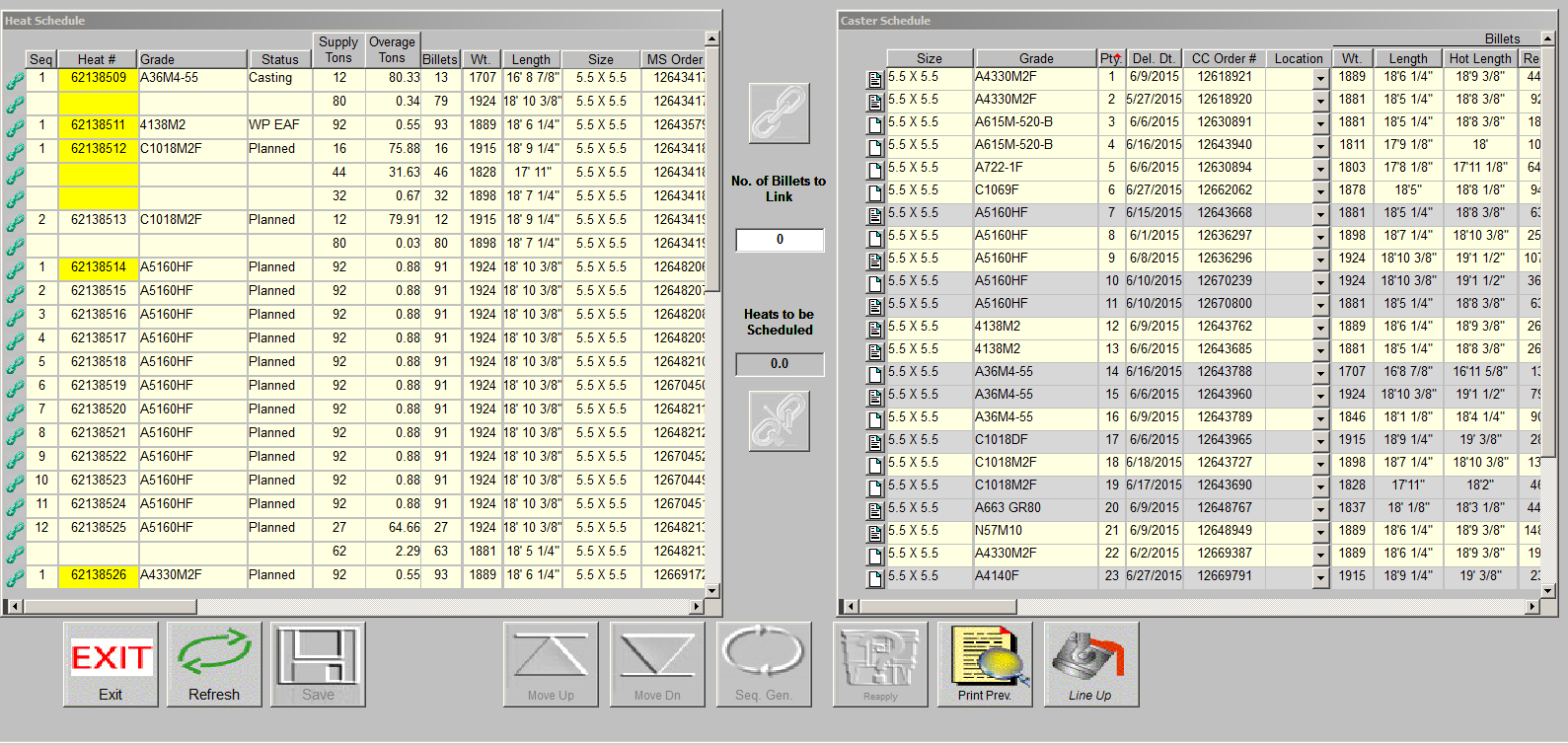 Scheduling of Off-line Finishing and Post Processing
For the operations that perform post processing of the finished goods, QMOS provides a complete set of tools to schedule and execute the operations. QMOS manages the schedule of all the finishing end stations in a unified way with clear visibility to the planned and actual start times. All historical schedule data can be reviewed once the orders have been complete to fine-tune your future production.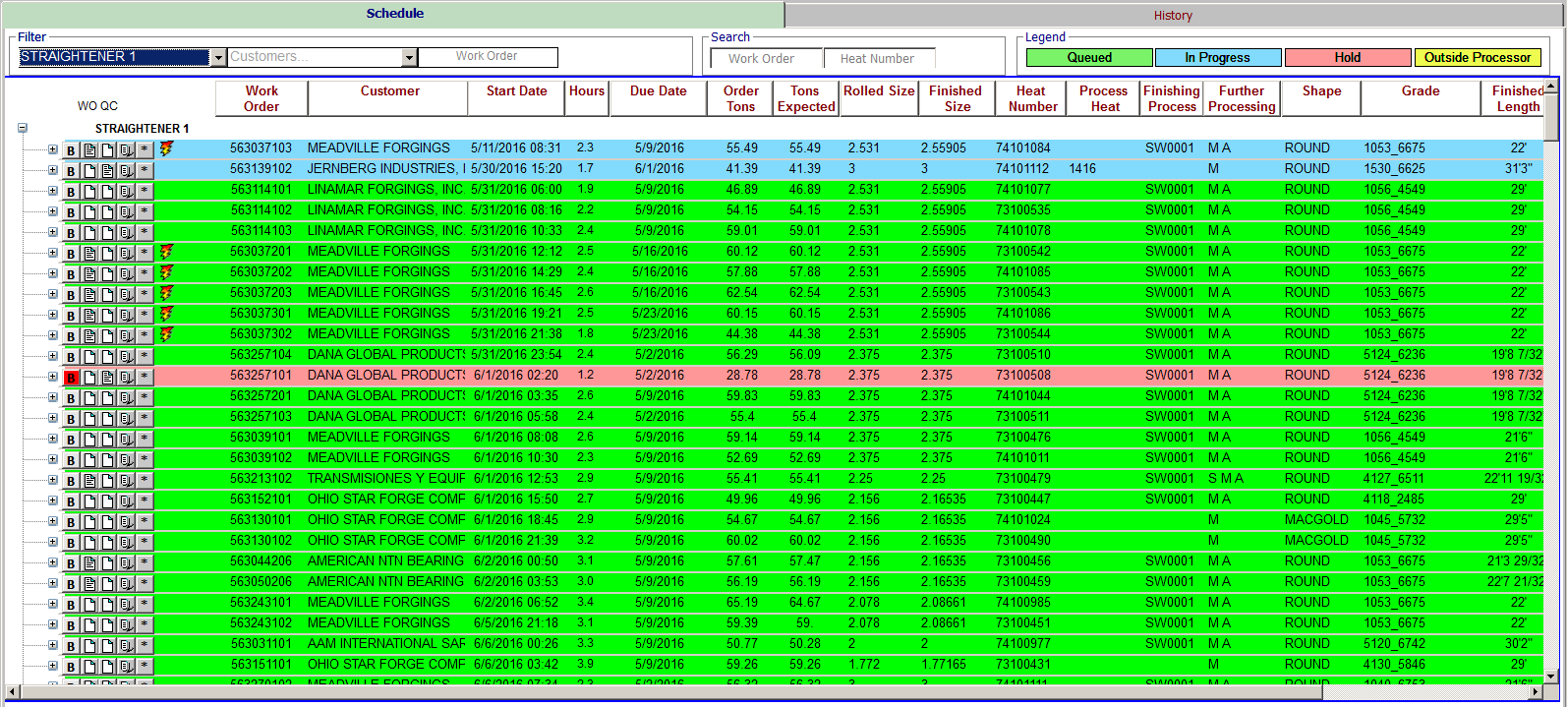 QMOS provides the ability to compare the rolling mill and caster schedules to each other in a graphical format, providing better visibility to the utilization of the rolling mill and the melt shop. This tool will highlight order deadlines in jeopardy and provide information to evaluate the impact of production risks and opportunities.
The schedule overview will help in maximizing hot charging through effective scheduling as well as minimizing excess inventory. The users can also apply What-If scenarios to the schedule to see the impact of each change prior to saving.
QMOS has interfaces for the major ERP systems, allowing orders to be downloaded and scheduled automatically based on the sequence and due dates defined by the ERP. Key production metrics for an order can be uploaded back to the ERP system once that order is complete. Product definition data can also be interfaced, eliminating the need for creating the same products manually in both systems.
QMOS provides accurate real-time start dates for each order in the rolling schedule, estimating how much time is left in an order that is currently in progress and adjusting the start times for subsequent orders accordingly. Setup times are taken into account, including provision for product-specific setup times.
Scheduled downtime can be recorded on an hourly basis and will also be factored into start time calculations. Forecasting tools are available for accurately controlling future production.
When defining rolling recipes for a given product, QMOS can suggest the optimal billet length for a given finished product that will result in the highest yield. The algorithm takes into account a host of mill specific parameters, including losses at the mill, cooling bed length restrictions and provision for short bars on the cooling bed.
This algorithm also comes into play during billet allocation, calculating an accurate yield for all billets in inventory for the current order that is being scheduled for charging. In addition, the cooling bed setup will be automatically calculated for each set of billets upon allocation.